BTC has rebounded from $30,000 with confidence. Probably, right now it's a very important level for bulls, a breakout of which may result in a deeper correction. At the same time, the cryptocurrency remains popular as an asset for savings. Major investors are trying to hold existing long positions and open new ones. For example, in January 2021, about 26,000 bitcoins were mined, while Grayscale Holdings alone bought more than 40,000 bitcoins in that month. This is another confirmation of the idea that the available supply of the digital asset is over much faster than a new one is created. Nonetheless, experts believe that a possible aggressive bullish rally lacks support from institutional investors.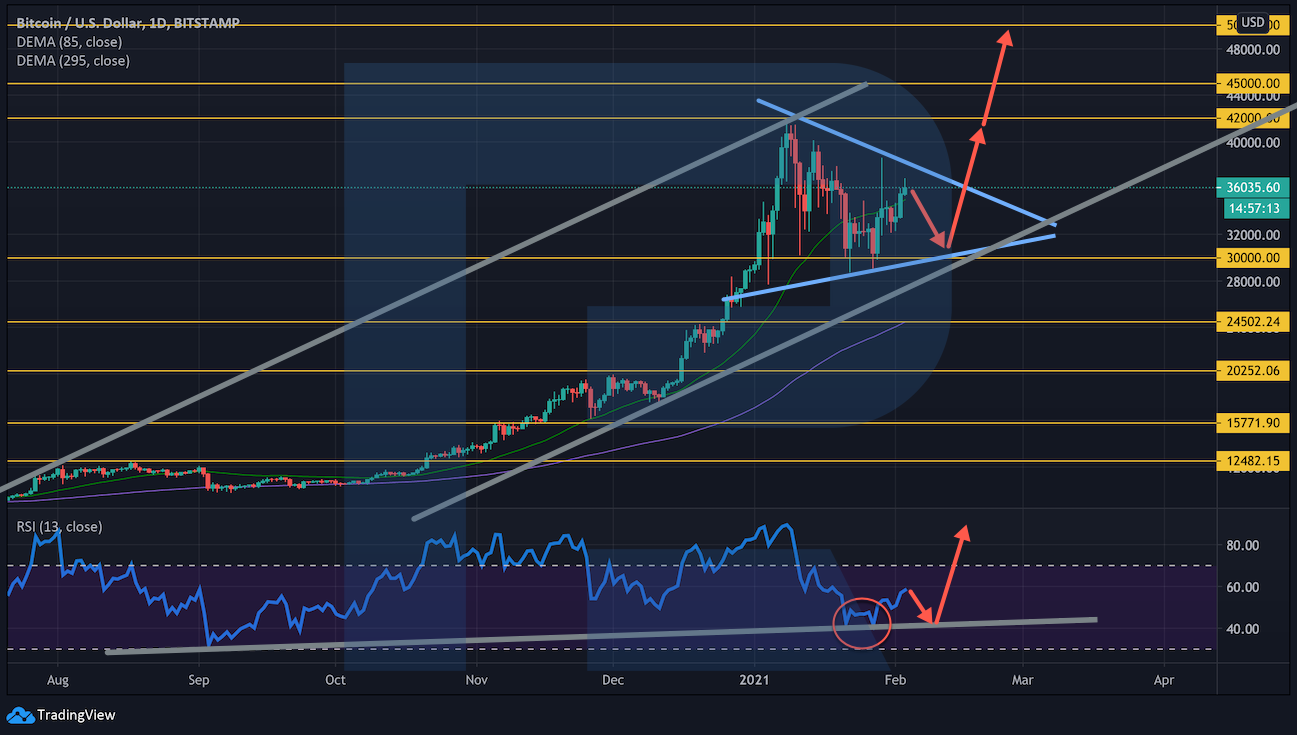 As we can see in the daily chart, BTC/USD is forming another Triangle pattern. There are chances that the asset may break the pattern's upside border in the nearest future and fix above $38,500, thus continuing the pattern materialization with the key target at $50,000. The RSI has also managed to rebound from the support line, which is a signal in favor of further growth. Another bullish signal is a rebound from the area between two Moving Averages.
Probably, the conference featuring Michael Saylor may be a good incentive for another bullish impulse in BTC. He is going to share his own ideas and know-how about big purchases of Bitcoin, as well as the way his company, MicroStrategy, does it. It is Saylor who buys the asset during significant corrections when retail investors are panicking and closing their long positions. Just a very short while ago, he tweeted again that MicroStrategy has purchased approximately 295 bitcoins for $10 million in cash, at an average price of $33,808 per coin. The above-mentioned conference is expected to host about 1,400 participants. Of course, one can't say that all of them will start to convert their money into Bitcoin immediately but the publicity around the event may fuel the hype towards the cryptocurrency market.
In his recent interview, Elon Musk said that he supported Bitcoin but was a bit late with purchases he should have made 8 years ago. He also mentioned a huge Bitcoin capitalization and predicted the recognition of the asset in the financial world in the nearest future.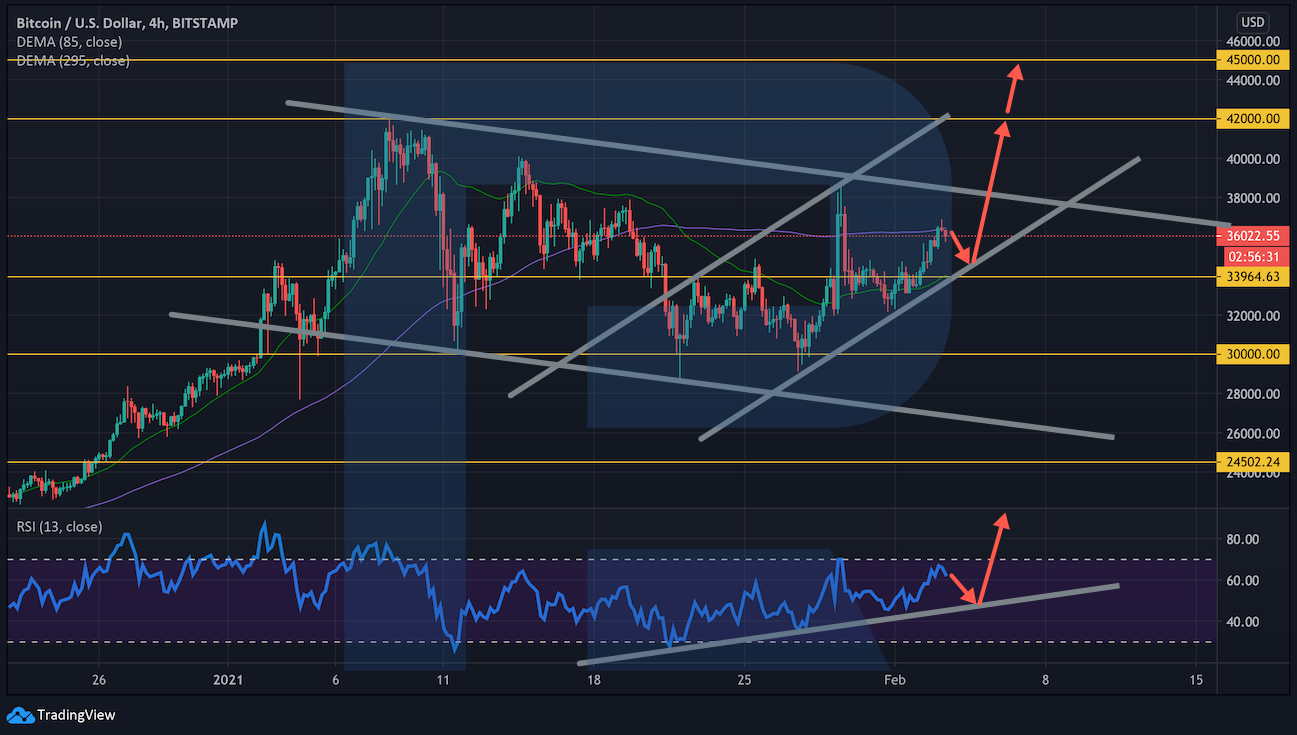 In the H4 chart, BTC/USD is still trading within the descending channel. To resume growing, the asset must break the channel's upside border and fix above $38,000, thus implying that the descending correction is over. In this case, the closest upside targets may be at $42,000 and $45,000. Another signal in favor of this idea will be a rebound from the support lien at the RSI: rebounds from this line already resulted in significant growths in the past. 
By Dmitriy Gurkovskiy, Chief Analyst at RoboForex
Disclaimer
Any predictions contained herein are based on the author's particular opinion. This analysis shall not be treated as trading advice. RoboForex shall not be held liable for the results of the trades arising from relying upon trading recommendations and reviews contained herein.
Disclaimer: This trading analysis is provided by a third party, and for informational purposes only. It does not reflect the views of Crypto Daily, nor is it intended to be used as legal, tax, investment, or financial advice.