Elon Musk tweets had been thin on the ground up until recently, but when he does go to Twitter the effect can be spectacular. Just changing his bio to the word 'Bitcoin' sent the number one cryptocurrency on quite a spike to the upside. 
Now, after a flurry of tweets on Dogecoin, hitherto regarded as a bit of a joke in more serious circles, the meme coin rocketed to an all-time-high of nearly 9 cents, a 90% increase in just 2 days. 
After posting that he was "off Twitter for a while" on the 2nd of February, he returned today to tweet about Doge, a Cryptocurrency coin he has been connected with in the past, when he changed his bio to "Former CEO of Doge", seen as a jibe against Bitcoin at the time. 

Dogecoin also came onto the public radar as one of the targeted assets of the r/wallstreetbets and GameStop furore. Doge was seen by some on the Reddit forum as a low value target with plenty of upside. 

CZ, the CEO of Binance, put his views forward in a tweet, perhaps seeking to put perspective on Dogecoin: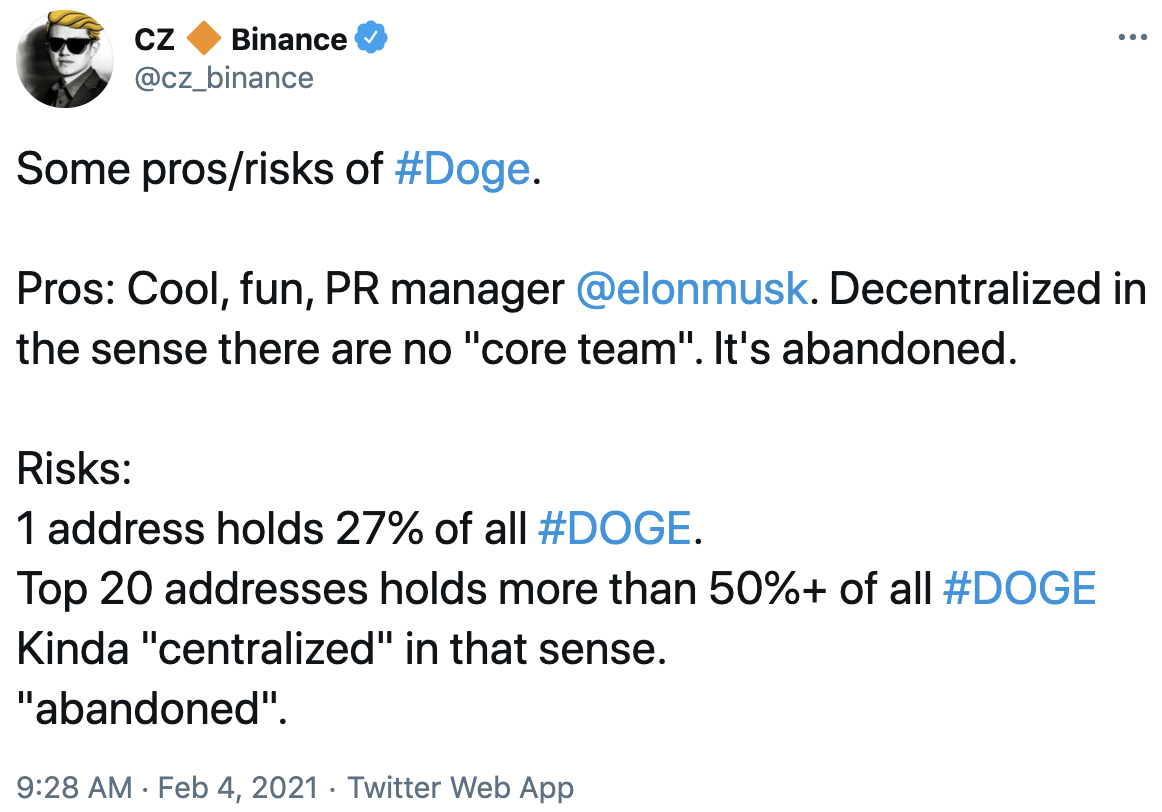 A replier in the CZ thread also expressed concern over the Musk Doge tweet, citing that first-time investors could get burnt and that Musk should show more responsibility: 

It was also acknowledged in the thread that there had been no Github development on Doge, with the last change taking place around 15 months ago. 
Meme coin or serious cryptocurrency? Doge became one of the rallying points during the retail investors versus Wall Street hedge funds saga of the previous few days. It could be said that it was pumped to prove a point. However, as a solid investment it seems to be lacking on many fronts. Over to you Elon? 
Disclaimer: This article is provided for informational purposes only. It is not offered or intended to be used as legal, tax, investment, financial, or other advice.