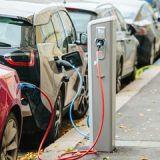 Electric vehicles (EVs) have been proposed as a viable solution to the growing effects of climate change due to air pollution. President Joe Biden hopes that electrifying the federal fleet will create many more jobs and encourage motorists to shun gas-powered vehicles. But it will not be easy since no automaker is ready yet.
On January 27, President Biden signed an executive order to mitigate climate change. He strongly encourages the federal government to acquire zero-emission vehicles only to help in this initiative.
Continue reading Electric Vehicles Appear On President Biden's Efforts To Mitigate Climate Change at E-Crypto News.