The publicly-traded and licensed crypto-asset broker Voyager Digital LTD, announced yesterday that their crypto trading app was downloaded a record 250,000 times for the 3-day period ending 31 Jan, 2021.  
The Voyager app attained a high of #18 in the Apple Store rankings in the USA, and the company also claimed to have processed over 1 million trades in January alone, compared with the 200,000 trades it handled in December.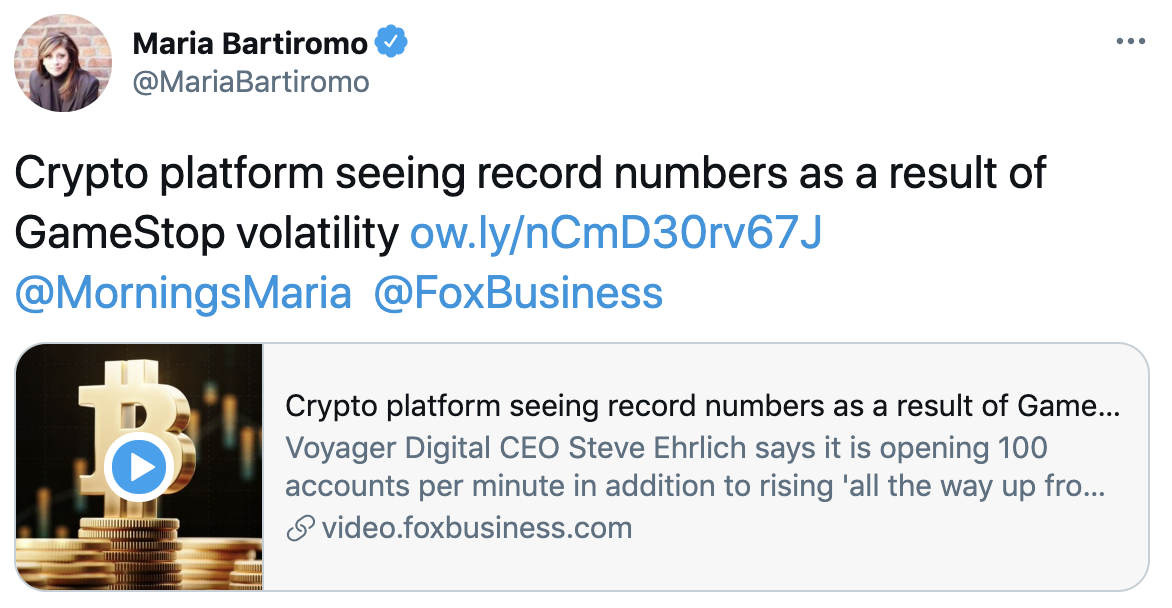 At a time when trading apps are very much in the spotlight, aka Robinhood, it's a welcome sign for the Cryptocurrency space. Trust is paramount in the trading game and a company with a clean bill of health so far, will likely do well. 
Steve Ehrlich, Co-founder and CEO of Voyager Digital, said: 
"We are extremely excited by this rapid influx of new customers we've experienced in such a short timeframe,"  
Ehrlich said that the Voyager app had risen from 'unranked' all the way up to the number 18 spot in a 48 hour period, thanks to the volatility from the extreme buying of Gamestop. 
He claimed that his app was seeing massive adoption by users looking to buy Cryptocurrencies, as 100 new accounts were being opened every minute at the height of the rush. 
He also remarked: 
 "To support this growth, we are constantly enhancing our systems and will continue to onboard consumers in a very judicious manner, to ensure every user gets the very best Voyager experience." 
The Voyager app
Voyager was created by one of the co-founders of Uber, together with executives of E*TRADE, TradeIt and Lightspeed Financial. The Voyager app enables its users to trade 55 cryptocurrencies in a fully secure environment.  
Users can earn interest on their deposits and trade 100% commission-free. The app supports Bitcoin, leading DeFi tokens, and stable coins, among a variety of other altcoins. 
The Voyager app is currently only available in the US, but there are plans this year to expand to Canada and Europe, as well as to launch a debit card. 
Disclaimer: This article is provided for informational purposes only. It is not offered or intended to be used as legal, tax, investment, financial, or other advice.