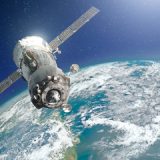 Satellite launching processes were previously expensive. Since investments into this sector were yet to be proven worthwhile, many firms avoided sinking funds into uncertainty. In some cases, many firms and countries lacked the necessary equipment to conquer the new frontier. However, all that seems to be changing with the entry of multiple technology giants.
In the past, satellites were launched only from a designated place on the ground but technological advancement is revolutionizing this industry.
Continue reading Satellite Boom Entices Tech Giants, Race To Mars Continues at E-Crypto News.